Teladoc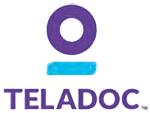 Get the medical advice you need, when you need it at Teladoc.com.

Sometimes you need to speak with a doctor when it's not possible to be available for an office visit. That's why the Teladoc program is available to you and your family, FREE OF CHARGE WHEN ENROLLED IN ONE OF THE HEALTH PLANS. The program can be used in a variety of ways:
During weekends, holidays or after business hours, when general practitioners don't typically schedule appointments.
When you can't attend a medical appointment, such as when traveling or at work.
If you need a prescription medication or refill for a common condition.
Click here for a summary on Getting Started with Teladoc.
Click here for step-by-step Registration instructions (computer or mobile app).
Click here for step-by-step instructions on Adding your Dependents.
Click here for a full Member Site Overview which includes completing your medical history, adding pharmacy/primary care physician information, and requesting a visit.
Remember, services received from Teladoc as part of the Egyptian Trust program are provided free of charge.  If Teladoc requests payment or billing information, you should immediately call 1-800-Doc-Consult (1-800-362-2667)  for assistance.